Skip to Content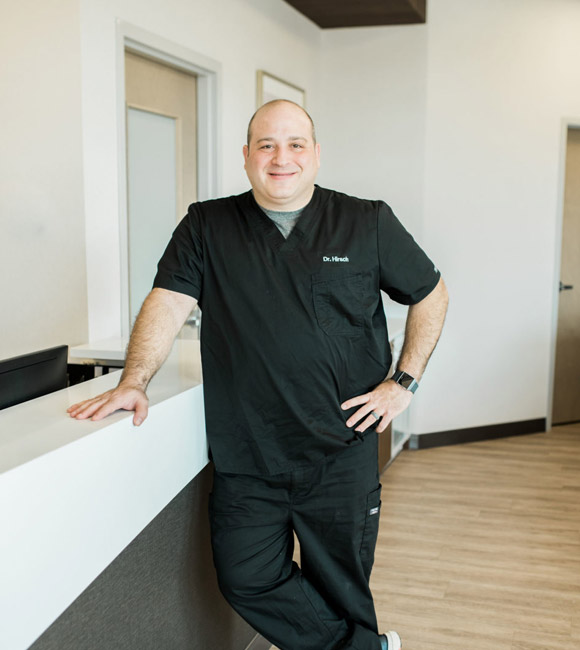 Erich Hirsch DDS
Dr. Erich Hirsch, D.D.S. got his first degree in 1995 from the University of Iowa, but it wasn't for dentistry. He originally got his B.S. in Psychology. It wasn't until the year 2000 that he obtained his D.D.S. from the University of Illinois at Chicago. He continues his education by attending Rondeau Orthodontic seminars, became Invisalign certified and joined the Chicago Dental Society, Illinois State Dental Society and American Dental Association. He brings back all information he has gathered and teaches his staff the industry's newest techniques while also bringing in the most modern technology. Dr. Hirsch also highly encourages his staff to continue their education independently.
After he received his D.D.S., Dr. Hirsch made it his mission to provide all of his patients with exceptional care while building lasting relationships and trust with them. This trust ensures that they feel safe from the moment they walk in the doors at Dental Care of Wheaton. We promise our patients will receive the highest ethical, personal and professional services possible. He wants his patients to feel better than they did before they visited his office. He also relies on his powerhouse team of hygienists (Donna Q., Kelly O. and Laura T.) to make sure that everything runs smoothly, and his patients get treated with excellent care while Anne-Marie J. keeps everyone on the same page as the office's manager.
Practice:
Dental Care of Wheaton
The ability to make people feel better after they leave then they did as they arrived.
It is my mission to provide exceptional dental care to my patients and at the same time, building relationships of trust with them. I'm passionate about what I do and want my patients to feel confident that they will receive the best care with the highest ethical, personal, and professional standards possible.
Education Detail:
University of Iowa
Iowa City, IA
BS Psychology 1995
University of Illinois at Chicago
DDS Dentistry 2000
Continuing Ed and Professional Memberships:
Rondeau Orthodontic Seminars
Invisalign Certified
Chicago Dental Society, Illinois State Dental Society, American Dental Association
Lifestyle and Hobbies:
Exercise, sports, playing hockey, and spending as much time as possible with my family.